Startbox Evo Color
A new color screen version
To meet your every need, we're expanding our range of control terminals with the arrival of an improved version of the Startbox Evo.

With the integration of an 8" color screen, we offer an attractive display and navigation interface.

In this way, we're adding new possibilities such as dynamic text and color changes, and the highlighting of promotions/information.

STARTBOX EVO C is an excellent compromise between Startbox EVO and Startbox TOUCH.

Its wide format display has been specially selected for the best user experience.

Initially offered in a vandal-proof stainless steel push-button version, a touch-sensitive version is currently being studied and may appear in the near future.

This model will feature the same options as the standard STARTBOX EVO and will be available as a portal controller, token dispenser or mixed version.
Description
Features
DOCUMENTS
Description
Technical specifications :
| | |
| --- | --- |
| Dimensions and weights | Cabinet(hxwxd): 157 x 52 x 43 Front panel (H x L): 81 x 38 Weight: 70kg |
| Material | White epoxy-painted stainless steel box |
| Trunk mounting | Fixes with 4 inner holes |
| Waterproofing | Designed and protected against direct water splashes (watertight seal, cover for acceptance openings, etc.). |
| Supply voltage | Available in 24VDC and 230VAC versions |
| Filter and overvoltage | Equipped with overvoltage protection and interference filter 230VAC or 24VDC |
| Heating – Thermostat | 24VAC-DC 50W heater and adjustable thermostat for frost and humidity protection |
| Lighting | 24VDC LED façade lighting |
| Locking system | Key system with 5-point multi-point locking |
| Hinge | 3 hinges per door |
| Buttons | IP67 (submersible) and vandal-proof 6-button versions, 2 additional buttons optional |
| Air vent | 2 top and bottom air vents for natural convection and a coupled fan or thermostat |
| Terminal block | A terminal block and a protected power supply in a box (standard in force) |
| Banking terminal | ingenico ISELF PCI-PTS 4.X compliant bank terminal with Trio IUP250 + IUR250 + IUC150b contactless payment module option |
| Electronic board | 1 single TB03 multi-function electronic board |
| Display and selections | Large 8-inch color display with 8 illuminated 19mm stainless steel selection buttons as standard IP67 |
| Printer | 60mm thermal printer for coin-ticket-CB invoices and reloading |
| Operator interface | A simple, independent interface enables the operator to consult meters or configure the terminal. |
| Locations | There are 2 locations where a combination of token dispensers and card/key dispensers can be installed. |
Dimensional drawing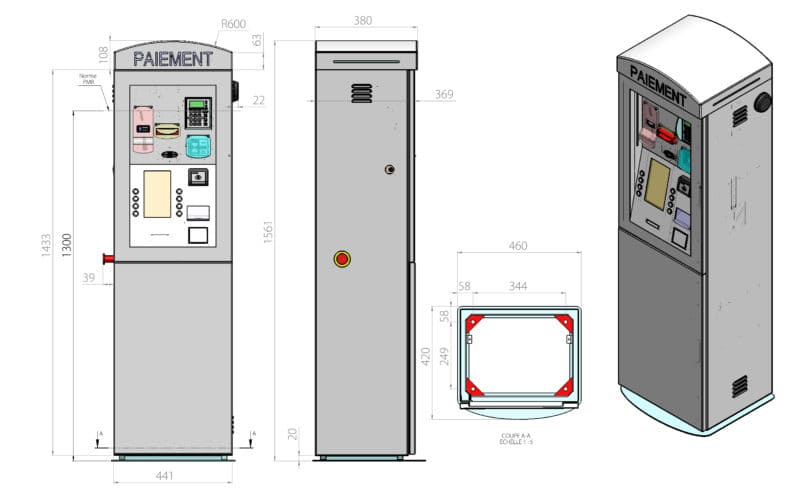 The STARTBOX EVO's trunk remains demanding in terms of quality and the numerous options on offer. It's a white epoxy-painted stainless steel box. A stainless steel foot is added at the bottom of the base to protect the paintwork and corners.
Available in gantry drive, token dispenser or mixed versions.
Combined with payment for the program, the customer can select and add the purchase of a token or code enabling them to use another service, such as the vacuum cleaner, at a later date. (see system requirements)
A problem? Remote management allows you to interact with the terminal remotely. From a PC or smartphone, the remote management option lets you check the payment history and remotely re-credit the terminal to reimburse the customer. Finally, the customer presses the flashing selection to restart the gantry. With the hopper option, you can compensate a customer by distributing tokens remotely.
The voice system option comes into its own: in the event of a breakdown (frost protection), the system explains the situation to the customer: "the temperature is too low for the gantry to operate". The help button displays a customized message explaining the gantry's general operation. By default, customers are informed of standard safety instructions.